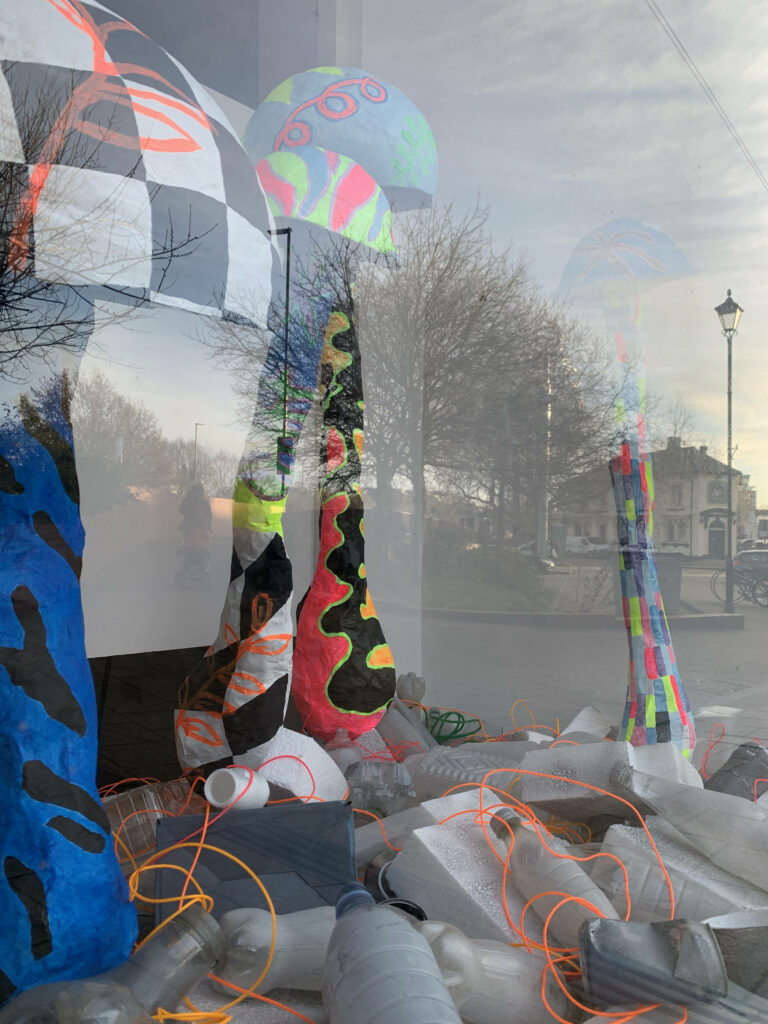 Inspired by a mushroom found growing inside the Hidden Wardrobe, FRUITING is a reflection on the regeneration of Old Northam Road, the new communities 'growing' there and the incredible life of fungi.
"The idea for this installation was conceived and made during the first lockdown and finished off in lockdown #2, FRUITING is a site-specific installation for the Hidden Wardrobe inspired by a mushroom found within. I have tried to create a light-hearted installation to lift the spirits of those passing by during this difficult time. Using ultra violet light, electricity and bright, bold colours FRUITING is inspired by the work of Japanese artist Yayoi Kusama.
Mushrooms, the fruiting body of fungi, have always fascinated me. My lockdown reading has taken me on a journey underground, understanding a little more about the way they grow and their amazing adaptability to different environments and the many symbiotic relationships they have with the environment around them. Some types of fungi are now used to digest pollutants and some can filter out toxic waste in contaminated water using mycelium mats whilst others digest plastic, explosives and pesticides. For my installation I have imagined a place with a litter strewn floor, a sight unfortunately all too common but out of which life emerges in the form of fungi.
Fungi can take on some of the characteristics of their environment, usually with a change of smell or taste. For this installation I have envisaged the mushrooms changing colour, taking on the characteristics of the paintings that are inside the building and made by fellow RIPE artist Benji Heinke. Benji's paintings contain a bold use of colour and design which I enjoy. His work references pop art from the 1960s, an era during which Old Northam Road was thriving as a busy and bustling antiques quarter."